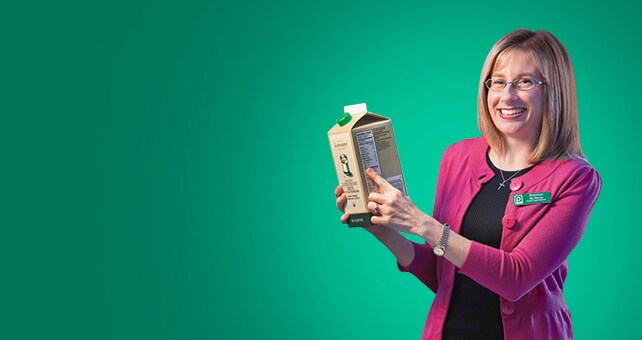 Planning What's in Store
Our customers look to Publix for the finest quality and we're here to make sure that's what they find. Every time.
Guaranteeing product quality and value.
Publix is renowned for its customer service and its bright, clean stores. But the quality of the products sold in our stores is equally important to our customers. That's why Publix spends so much time evaluating thousands of new products each year. We want to find the very best ones and price them to provide value for our customers and our shareholders.
Our Duties
Our Buyers, Category Managers, and Business Development Directors not only meet with hundreds of suppliers, evaluate their many products and determine which should be purchased, they also:
establish specifications for store-brand products
monitor the inventory levels in our warehouses
negotiate the purchase price for each product and set the retail price
set the product mix for our stores and maintain shelf and case merchandising plans
maintain optional products that our stores can purchase to meet unique customer needs
develop store-brand items
select products to be featured in our many different advertisements
develop training manuals to ensure proper handling of fresh products, and
develop store department procedural guides.
Our Contributions
With up to 50,000 products in each store, these kinds of decisions have enormous impact on our customers and on our bottom line. In 2012, more than 11,500 of those products were new purchases for Publix.
Our Corporate Purchasing departments include:
a Fresh Products team responsible for Deli, Meat, Seafood, Produce, Floral and Fresh Bakery products
a Grocery/Non-Foods team responsible for dry groceries including direct store delivered, dairy and frozen foods and non-foods such as health and beauty care, baby, laundry detergent, paper products, pet foods and seasonal products, and
a Logistics team, which makes sure the products that have been purchased arrive on schedule, as ordered, and that returns are handled efficiently and effectively. This team also monitors warehouse inventories to make sure new orders don't require more space than is available.
Other members of Corporate Purchasing:
help inspect the quality of products that arrive at our warehouses, particularly perishables
teach store associates how to properly handle and display products, and
work with our various computer systems that support all of the department's communication with vendors, warehouses, manufacturing plants, and stores.
Our Positions
Positions in Corporate Purchasing include the following.
Business Development Directors
Buyers
Category Analyst
Category Managers
Clerks
Dairy/FF and GM Merchandiser
Forecaster
Planner
Quality Specialist
Retail Coordinator
Retail Improvement Specialist
Technical Coordinator
Technical Specialist
Warehouse Replenisher
We usually fill openings in Corporate Purchasing from within our company, but there are occasional employment opportunities for external job candidates. All candidates, however, must be experts in their field, effective coaches, and passionate about their work.
How to Apply
Please go to the Publix Jobs Center to begin searching our openings. Click the appropriate link to view openings for Publix associates and non-associates. Click Search Openings and narrow your search by selecting Corporate Purchasing from the Job Category list.
When you apply, your information will be sent directly to the appropriate hiring manager. If your skills and experience seem to match the qualifications of the position that interests you, Publix will contact you for an interview and possible customized testing for that position.
If you have any questions about our application process, please call our Employment Office in
Lakeland at (863) 688-7407, ext. 32504 or
Atlanta at (770) 995-0073, ext. 2153.