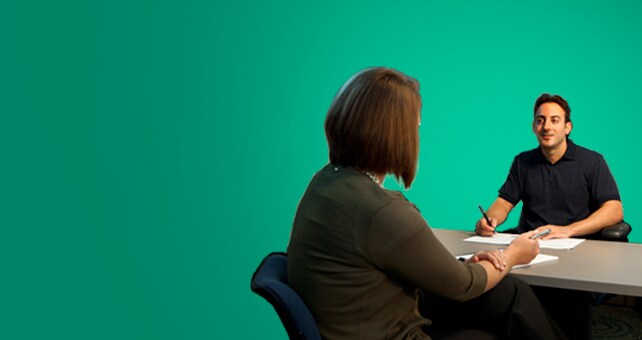 Your Best Interview
Prepare yourself and review Publix facts to make a great impression.
There are several things you can do to prepare for an interview, such as bringing a résumé and arriving a few minutes early. But, if you want to nail your interview, then study these tips on how to make a good impression. If you're applying for a job at one of our store locations, check out our blog article, 6 Tips for Getting a Job at Publix.
Prepare for the interview.
Find out as much as you can about Publix, the location where you want to work, and the duties of the jobs you've applied for by researching our website.
Read your résumé closely to think about your strengths and accomplishments.
Write a short opening statement on how you can help Publix deliver premier customer service. Practice it until you feel comfortable saying it without having to read it.
Prepare a portfolio to share with the hiring manager if appropriate.
Prepare answers to common interview questions. A simple internet search will yield some great examples.
Write down any questions you might want to ask the hiring manager about the company, work environment, schedule, or benefits. If you are interviewing for an hourly position, feel free to ask about the pay rate. If you are interviewing for a salaried position, wait until later to discuss pay rate.
Make a good impression.
Dress for success. Wear clothes appropriate to the position. Avoid excessive jewelry, and cologne or perfume.
Take your résumé and work samples to the interview.
Arrive 10 minutes early. Being late may automatically disqualify you from further consideration.
Turn off your cell phone as soon as you arrive.
Make good eye contact with each person you meet, especially the hiring manager.
Thank the hiring manager for the opportunity to interview.
Share your opening statement at the appropriate time.
Express enthusiasm and stay positive. Never criticize other individuals or other companies.
Be aware of your tone of voice and your posture. They give clues about how you feel about yourself and about the hiring manager.
Listen carefully to make sure you hear the hiring manager's questions correctly.
Speak clearly and concisely. Don't rush your answers.
Don't assume you are the best candidate since you don't know who the others are. Just be yourself and give it your best effort.
When the hiring manager has finished asking his or her questions, ask if there is time for you to address the questions you have. If there is time, then proceed.
End by thanking the hiring manager for taking time to meet, and then ask when a decision will be made and how you will be notified.
Follow up the interview with a written thank you note. Restate your interest in the position and why you believe you are a strong candidate who will add value to the company.
Evaluate the opportunity.
After the interview, think about what the hiring manager said and what answers he or she gave to your questions to evaluate if the position is the right fit for you. If you receive a job offer, it will be contingent on whether you can successfully complete a Criminal Background Check and a Drug Screen, and whether you meet other hire eligibility criteria. The store will provide more information about getting started.