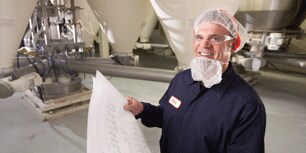 Plant Engineers are responsible for designing and executing an effective maintenance plan, and for collaborating with their counterparts to ensure that the plant operates reliably.
Evaluates food processing equipment, building maintenance processes and procedures, and food safety procedures to ensure that they are maintained to Publix's high standard.
Creates maintenance and capital project budgets, and works to manage operations within those budgets.
Collaborates with safety, quality assurance, and production leaders to ensure all local, state, and federal regulations are met.
Follows current technologies and manufacturing practices to keep the plant on the cutting edge as a leader in the industry.
Preferred Qualifications
Bachelor's degree in an engineering discipline or graduation from a vocational/trade school.
Experience in manufacturing maintenance management in a food manufacturing plant.
Experience with monitoring maintenance needs using a Computerized Maintenance Management System (CMMS) for such tasks as generating work orders and preventive maintenance schedules, procuring parts, and recording systems and procedures.
Technical and supervisory experience in electrical, electronic, mechanical, pneumatic, and hydraulic systems, instrumentations, automation, and computer fields.
Knowledge of programmable logic controllers (PLC) and computer automation theories, software, and hardware.
Ability to read, develop, and alter schematic diagrams, equipment, and architectural drawings.
Ability to modify the layout of an equipment area to enhance its efficiency or accommodate new equipment.
Ability to maintain confidentiality.
Ability to exhibit poise and professionalism in stressful situations.
Computer skills, including proficiency in Microsoft Outlook, Word, and Excel.
Ability to manage projects and negotiate effectively with external contractors and vendors.
Excellent oral and written communication skills.
Obvious enthusiasm, initiative, and pride in work.
Do any of these positions sound right for you? Check out our current openings and search for the job or department that you're interested in. After you apply, head to our applicant resources page for additional tips on landing your dream job at Publix.
If the position you're searching for isn't open yet, give our Job Match tool a try! You might be surprised what other opportunities match your skills and interests.