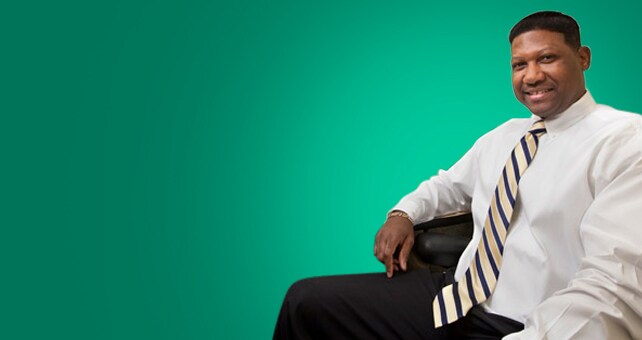 All About Publix People
We have resources no other company has—our people. We make sure Publix hires, trains, and retains those who fit our culture and make a difference.
Linking talent and strategy.
Some companies proclaim that their associates are their greatest asset. At Publix, our associates are the company. Their talent provides our competitive advantage. That's because Publix hires individuals who have high standards, a deep desire to make a difference, and a keen sense of teamwork, and then supports their professional growth—through coaching, training, and advancement. Our associates are also owners of the company.
Our Human Resources team directs many of the initiatives designed to further the potential of the more than 160,000 associates at Publix and to further the company's ability to deliver premier customer service. In other words, HR helps ensure that Publix has the right talent in place to execute the company's strategies.
HR contributes to strategic initiatives by:
assisting in defining standards for the delivery of premier customer service.
providing field support to all of our stores, manufacturing plants, distribution centers, and corporate offices—on topics ranging from recruiting to retention, performance evaluation to reward systems, conflict resolution to legal compliance.
surveying every Publix associate once a year for feedback on our leadership, business tools, compensation package, and policies.
developing and delivering educational programs to help achieve the company's business objectives.
influencing decisions on the geographic markets in which we choose to operate.
promoting diversity in every respect.
evaluating each new technology designed to increase the effectiveness of HR functions.
Our Team Structure
Read on to learn how different teams in HR contribute to our strategic initiatives.
Associate Relations
The Associate Relations team works proactively to prevent inappropriate practices or violations of law or Publix policy. They also conduct training, administer management tests, and monitor progress of diversity initiatives.
Here is one position in the Associate Relations team:
Associate Services
The Associate Services team manages Publix's annual United Way campaign in which contributions make it the 3rd largest United Way program world-wide. The 2012 campaign resulted in contributions of $27.9 million by Publix associates and a match by Publix Super Markets Charities of $21 million for a grand total of $48.9 million! The associates in this team are responsible for developing campaign themes and setting the annual contributions goal, as well as helping to direct the collection process. A big reason the United Way program has grown to its impressive size is because it was important to Publix's founder, George Jenkins. Mr. Jenkins chose to support this program because the money goes to help citizens in our local communities.
The Associate Services team also facilitates the Service Award program which rewards Publix associates for their tenure at Publix. Depending on associates' number of years worked at Publix, they are invited to special luncheons or dinners and may choose from a large assortment of gifts. Furthermore, the Associate Services team facilitates the Retail Operations Conference held every other year which brings together store management teams to motivate, educate, recognize and give direction for the coming year.
Compensation
The Compensation team analyzes pay surveys and recommends pay scale adjustments and benefit changes for positions throughout Publix. Compensation manages a variety of total rewards programs, including the Tuition Reimbursement Program, Relocation Program and the Retail Tie Pay to Performance Program. The team maintains internal equity among jobs by applying a systematic job valuation method to job documentation. Compensation manages our organizational structure within an HRIS system. The team is also responsible for providing analytical support to internal business units by performing data analysis on company data.
Here is one position in the Compensation team:
Diversity
The Diversity team works with company leaders to ensure that Publix is an environment where similarities and differences are valued and utilized to achieve organizational goals and objectives.
Employee Assistance Program (EAP)
The EAP team offers guidance and support to Publix associates who are experiencing personal crises. They also administer criminal background checks and drug screens given during associate employment processing.
Here is one position in the EAP team:
Employment Office
The Employment Office works to provide Publix's signature customer service to job seekers and hiring managers in our corporate office, distribution centers and manufacturing plants. They post jobs, schedule interviews and clerical assessments, and walk everyone through the hiring process.
Here is one position in the Employment Office:
Education and Training Development
The Education and Training Development (ETD) team creates on-the-job training programs for a variety of associates, including processes for retail hourly associates, technical and operational training for managers and leadership training for the company's executives. Training Specialists facilitate training classes and workshops to deliver technical, general management, leadership and cultural change courses to Publix managers at all levels. Additionally, they deliver training necessary for the implementation of innovations at Publix.
Here are two positions in the Education and Training Development team:
Labor Relations
The Labor Relations team designs, administers and analyzes associate opinion surveys in an effort to monitor satisfaction levels and strengthen positive associate relations initiatives. This team serves as the primary contact for organized labor and provides assistance to operations in responding to labor related incidents. This team also steadfastly advocates positive associate relations through presentations and management training.
Here is one position in the Labor Relations team:
Policies
Through the Policies team, HR policies and procedures are developed and published where they can be readily accessed by associates across Publix's stores, corporate offices, distribution centers and manufacturing plants.
Here is one position in the Policies team:
Selection Systems
HR Development Consultants develop efficient, effective processes for job design, candidate selection and staffing, associate performance evaluation, and leadership development. The HR Business Analyst provides reports, charts and raw data to support various Human Resources business decisions. The Job Analysts create documents to help determine what pay range a position is assigned, what tests are developed to screen candidates for a position, and ultimately how the performance evaluation process for each position is developed. The Selection Systems Clerks assist in the administration of the retail management selection process, which includes data entry and the maintenance of records, files, and test materials.
Here are four positions in the Selection Systems team:
Talent Acquisition
The Talent Acquisition team develops and implements strategies to make sure our stores, offices, warehouses and manufacturing plants are staffed with qualified individuals who reflect the diversity of our customers. Their activities range from holding career fairs, sourcing candidates on the web, developing partnerships with schools and non-profits that send us skilled applicants, and teaching hiring managers how to provide premier customer service to job seekers. They also act as mystery applicants to test the quality of our employment process.
Here are five positions in the Talent Acquisition team:
Diversity Recruiter
Employment Branding Specialist
Seasonal Staffing Specialist
How to Apply
Please go to the Publix Jobs Center to begin searching our openings. Click the appropriate link to view openings for Publix associates and non-associates. Click Search Openings and narrow your search by selecting Human Resources from the Job Category list.
When you apply, your information will be sent directly to the appropriate hiring manager. If your skills and experience seem to match the qualifications of the position that interests you, Publix will contact you for an interview and possible customized testing for that position.
If you have any questions about our application process, please call our Employment Office in
Lakeland at (863) 688-7407, ext. 32504 or
Atlanta at (770) 995-0073, ext. 2153.