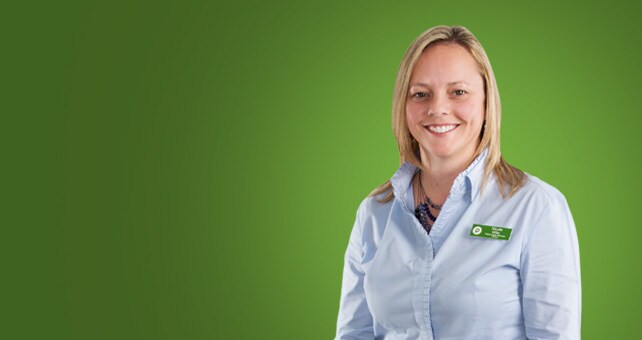 Balancing Big Budgets
In the tough supermarket industry, we're here to make sure every penny is accounted for to our stockholders.
Publix couldn't deliver premier customer service in our stores without support from the Accounting department. How do these number crunchers play such a vital role? They ensure accurate and prompt payment to Publix's suppliers. Without that diligence, our store shelves wouldn't be continually stocked with the items our customers need and want.
Read on to learn how these teams, and others in Accounting, contribute to strategic initiatives at Publix.
Expense Payables
Publix's Expense Payables team processes non-merchandise (goods and services not sold at a store) invoices to ensure that vendors are paid the correct amount at the proper time.
Some of the items that Expense Payables process include:
materials for the construction of new stores
rent for leased Publix store locations
utilities (electric, water, gas, telecommunication, garbage removal)
equipment and repairs for all store, warehouse and office facilities and
legal and professional services.
Here are five positions in the Expense Payables team:
Mail Center Clerk
Expense Clerks
Expense Analysts
Expense Payable Team Leaders
Expense Payable Supervisors
Merchandise Payables
Publix's Merchandise/Direct Store Delivery (DSD) Payables department processes bills for all product that is delivered to our stores, warehouses and manufacturing plants. Some of the items they process include:
freight charges to have product delivered to the stores and support locations
gift cards sold in the stores and
regulatory products such as alcohol, fuel, raw milk, and pharmaceuticals.
Here are five positions in the Merchandise/DSD Payables team:
Merchandise/DSD Payables Clerks
Merchandise/DSD Payables Analysts
Merchandise/DSD Administrative Support
Merchandise/DSD Team Leaders
Merchandise/DSD Supervisors
Accounts Receivable
The Accounts Receivable team collects money due to Publix with professionalism and finesse. They also oversee Publix Gift Card program sales. During the holiday season, the elves in Accounting (otherwise known as our Gift Card teams) work long hours to process all of the gift cards customers purchase as gifts.
Here's a list of some of the other items the Accounts Receivable team manages:
redeemed coupons
returned checks
third party insurance
supplier rebates and
store charge accounts.
Here are four positions in the Accounts Receivable team:
Accounts Receivable Clerks
Accounts Receivable Analysts
Accounts Receivable Team Leaders
Accounts Receivable Supervisors
Store Bank Auditing
The Store Bank Auditing (SBA) team puts together the puzzle pieces of cash flow. For retail sales, the SBA team monitors cash flow between the stores, the banks and armored couriers. They work to identify and resolve issues and report and reconcile miscellaneous store tenders. Examples of these payments include Money Transfers, Money Orders, postage stamps and lotteries for both settlement and commissions. For Publix's Support departments, the SBA team reconciles all of Publix's bank accounts, including deposits, withdrawals, and check clearing. A few examples of these payment transactions include:
payroll
workers' compensation and
dividends.
Here are four positions in the Store Bank Auditing team:
Store Bank Audit Analysts
Store Bank Audit Team Leaders
Store Bank Audit Supervisor
Store Bank Audit Manager
EFT Accounting
The EFT Accounting team ensures that Publix receives accurate and prompt credit and incurs appropriate charges for all electronic sales and ATM transactions generated at the stores. They accomplish this by balancing debit, credit and gift card activity at the Point of Sale (POS). EFT Team Analysts balance PRESTO! ATM transactions, while analyzing and ordering funds to be loaded at the PRESTO! ATMs. It's also important for the EFT team to validate the settlement of all electronic ATM & POS activity. Furthermore, they provide premier customer service by promptly researching and responding to inquiries regarding customer's electronic transactions, and transactions with the stores, financial institutions and networks.
Additionally, the EFT Team provides SAP support by:
updating customers and vendors
creating and maintaining General Ledger accounts and cost centers
validating approvals and setting up projects with the assigned budget and
keeping store and shopping center information current within real estate modules.
Here are six positions in the EFT Accounting team:
POS Analysts
Opticash Analysts
Settlement Analysts
Master Data Maintenance Analysts
EFT Accounting Administrative Support
EFT Accounting Supervisors
Retail Accounting
The Retail Accounting team processes all expenses, income and sales for each store and produces a profit and loss statement weekly for each Publix store. This team also calculates year-end manager accrued bonuses for eligible store managers. Another important part of this team's job is to perform audits on things such as store inventories and sub-department vouchers. Furthermore, they perform various data entry with items such as donation forms, payroll and merchandise transfers.
Here are four positions in the Retail Accounting team:
Retail Accounting Clerks
Retail Accounting Analysts
Retail Accounting Lead Analyst
Retail Accounting Supervisor
Payment Processing
The Payment Processing team ensures suppliers are paid on time by:
processing automated clearing house (ACH) payments and checks, such as vendor, payroll garnishment, and workman's compensation and
imaging documents for retention purposes and audits for Corporate Accounting and BAR.
Here are three positions in the Payment Processing team:
Payment Processing Associates
Payment Processing Analysts
Payment Processing Supervisor
Corporate Travel
The Corporate Travel team makes all hotel, airline, and rental car reservations for associates who travel for business. The team ensures Publix is billed correctly by processing the invoices relating to these accommodations. In addition, the Corporate Travel Department manages the company credit card program, including expense auditing, and the Florida Toll Pass program. Furthermore, they manage the household goods shipment division of Publix's relocation program.
Examples of the services covered under these areas of responsibility include:
air, ground transportation, hotel and conference reservations
meetings management
audit and payment functions for the credit card program
shipment of household goods, invoice payment and auditing and
toll/transponder services.
Here are three positions in the Corporate Travel team:
Travel Analysts
Visa Analysts
Travel Manager