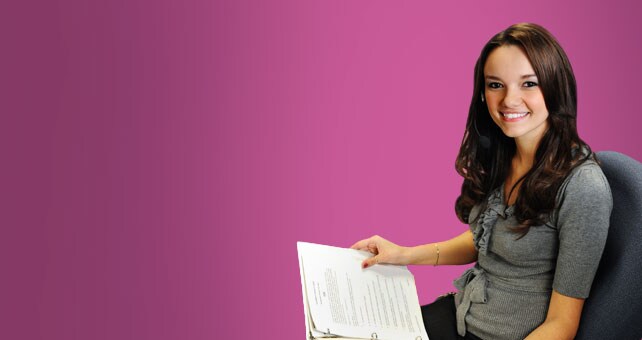 Focused on the Details
We count on the people who manage the day-to-day operations of keeping a billion-dollar company like Publix running smoothly.
Publix hires or promotes a lot of people each year to fill clerical openings—173 in 2012. These can be opportunities for Publix associates or outside candidates to get their foot in the door at our corporate offices or in our distribution centers and manufacturing plants. But these positions are more than just stepping stones; each is vital to the successful operation of a huge supermarket chain.
Contributions
Our talented administrative support teams:
Provide a professional, well-informed reception to the people who call on or visit our corporate offices, manufacturing plants, and distribution centers.
Track numbers vital to monitoring our progress in every aspect of the supermarket business.
Process the paperwork involved in operating a billion-dollar enterprise.
Administer voluminous files, both soft and hard copies.
Handle arrangements for meetings, training sessions, trips, and major events like our annual leadership conference.
Numbers
We have more than 900 clerical positions in our support areas. Most of them—nearly 800—are in our corporate offices in Lakeland, Florida. The rest are in our divisional offices in Lakeland, Jacksonville, and Atlanta. And in our distribution centers in Atlanta, Boynton Beach, Deerfield Beach, Jacksonville, Miami, Orlando, and Sarasota; and manufacturing plants in Atlanta, Deerfield, and Jacksonville.
Administrative Positions
Hourly support 1 positions usually require data entry skills, basic computer skills, and good customer service skills.
Hourly support 2 and secretary I positions usually require more advanced computer skills (including the ability to create and proofread documents and spreadsheets), strong customer service skills (including exemplary phone etiquette), and basic research skills. Time management is essential to effectively handle the multi-tasking involved in these positions. Examples include Distribution Operator, Employment Office Clerk, Selection Systems Clerk, Bilingual Ad Letter Clerk, and Loss Prevention Divisional Administrative Clerk.
Hourly support 3 and secretary II positions usually require some mathematical skills, sophisticated computer skills (including the ability to create and maintain databases), and advanced customer service skills. These associates often serve as a department's primary contact, assist internal and external customers with complex problems, and train other associates about administrative policies and procedures. They perform some analytical tasks, deal with confidential information, and must have the maturity and self-discipline to work independently. These associates are superior multi-taskers. Examples include Bakery Plant Operations Clerk, Employee Assistance Program Clerk, Leasing Specialist Assistant, Property Representative Assistant, and Ad Layout Artist.
A few of our administrative positions have other titles such as distribution operator and mail clerk/courier. We also have hourly support 4 and hourly support 5 positions, which require very specialized skills. Most administrative openings are filled by promoting from within, but there are many administrative opportunities each year that are available to outside candidates.
How to Apply
Please go to the Publix Jobs Center to see our current openings. Since most departments occasionally post these types of positions, search for openings in all areas. Use the Advanced Search tab, select All from the Posted Within drop-down list, and click Go.
When you apply, your information will be sent directly to the appropriate hiring manager. If your skills and experience seem to match the qualifications of the position that interests you, you'll be contacted for an interview and possibly for testing customized to that position.
If you have any questions about our application process, please call our Employment Office in