You don't have to work at Publix for years before joining the management team. Nor do you have to wait a lifetime to become a store manager. Based on current analysis, you could reach your dream sooner, becoming:
Assistant customer service manager with less than a year of experience in one of three positions leading to management. The average experience of those promoted into this position is 18 months in one of those prerequisite positions.
Grocery manager in less than a year as an assistant grocery manager. Average experience of associates promoted to these positions is about three years as an assistant grocery manager.
Store manager in less than two years of experience as an assistant store manager. Average experience for this position is about five-and-a-half years as assistant store manager.
Ready to kick-start your career? Apply online using our Talent Application Gateway.
Typical Scenarios
Here are a few examples of how associates can progress into management roles throughout their career at Publix.
The Options
Progression charts available in each store let associates know the Positions Leading to Management (PLM) which help provide the experience needed to prepare. There are 15 PLMs, offering a variety of career paths.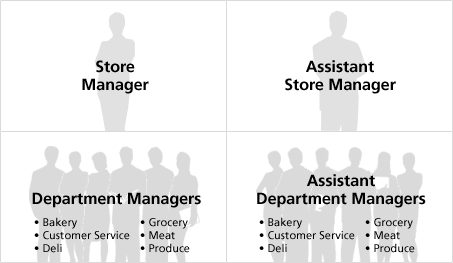 Once an associate becomes a manager, career paths are just as clear on how to continue advancing. Each department has a manager and an assistant manager. And each store has a store manager and assistant store manager. There are also opportunities beyond the store, both in field positions and in our corporate offices.
Publix provides the training to help you master the skills you need to be successful in all of these positions. When associates are interested in advancing, they can register their interest through a screening process that assures everyone gets consideration.
Get started today and apply online to join the Publix family.